How to Activate Bits on Twitch in 2022 – This time we have to see a tool that gives a purpose to this platform, so I will show you how to activate the bits on your Twitch channel. If you are just starting out, and not yet familiar with the features of Twitch, then this short guide will definitely help you.
How can I activate bit donations on Twitch?
Before activating bit donations on your Twitch channel, you must meet some requirements established by this platform; you must join the Twitch Affiliate Program .
By being an affiliate streamer on Twitch you will get a series of benefits that are related to the future income of your channel , where the bits are included. Not a member yet?
Requirements to be an affiliate on Twitch
By getting the affiliate on Twitch you will be able to unlock a few options to receive income, since you get access to subscriptions and bits ; the virtual currency with which this platform moves. The requirements to be an affiliate on Twitch that you must meet are the following: 
+500 minutes broadcast (Last 30 days)
+7 single days of issuance (Last 30 days)
Average of 3 concurrent viewers (Last 30 days)
Have at least 50 followers on your channel
Difference between Affiliate and Partner on Twitch
It could be said that the Twitch partner is the level that follows the affiliate program, and this is reserved for those active streamers on this platform. Being a Twitch Partner will enable you to receive channel announcements and customizations , such as emotes and emblems. The requirements to be a Twitch partner are the following:
Broadcast for at least 25 hours
Broadcast on 12 different days
Have an average of 75 viewers
As it is in the affiliate program, you must comply with them within a period of 30 days . Although the partner will not be assigned to you automatically; but you will have to apply to be a Twitch partner once the objectives are achieved.
How to Activate bits on Twitch channel
Before proceeding with the following steps, you need to activate the donation alerts in the program to broadcast your preference live. 
It should be noted that you do not need to activate the bits in your channel manually , since Twitch does it automatically once the objectives are met . However, you can see how you are progressing in the achievements section of your channel , which you can see as follows. 
Step #1 – Profile > Creator Dashboard
Click on your profile icon that appears in the top right corner of the screen, and then select the "Creator Dashboard" option . This is where you will be able to monitor the progress of your channel.
Step #2 – Data > Achievements
A window will open with the control panel to configure your channel, where you will see a menu on the left side of the screen. In that menu select "Data" , and in the dropdown options go to "Achievements" .
And how can I send bits on Twitch?
To send bits on Twitch you must buy them using real money. To do so simply click on "Buy Bits" which is located right next to your profile. Then select the option that best suits your needs, and complete the payment using the method of your choice. And that would be all!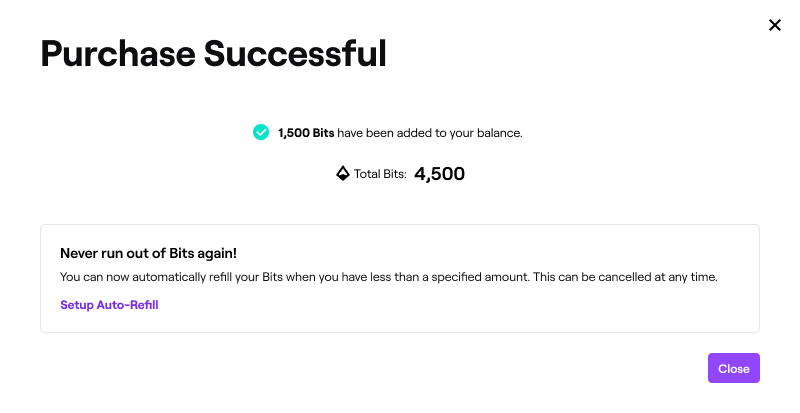 In case you need help streaming…
If you can't wait to receive your affiliate status on Twitch